NiSi C5, a new way to capture your movies
The NiSi C5 Matte Box system is specially designed for lenses that fits a 95mm diameter, and for every kit, 4 adapter rings of 82/77/72/67mm are included for you to use the C5 on any threaded lens of that diameter, making it one of the most versatile Matte Box out there!
The NiSi C5 Matte Box system is a lightweight, versatile, and minimally designed to serve the modern cinematographer. Designed to work with a multitude of lenses and provide a mounting solution for NiSi's Cinema line of filters along with other 4mm thick filters. The C5 is crafted to meet the needs of all creators. Paired with NiSi's new 4×4 rotating circular filters, it can fit into the workflow of a run-and-gun shooter all the way up to a full-scale production. Paired with a set of NiSi's cinema line of filters, there is no better choice to aid in producing the creative look that is desired in camera whilst managing tricky lighting conditions. The C5 is built to last using Aluminium, plastic and Carbon Fibre to protect the filters it holds while keeping the weight down. It features a clamp-on style with adapter rings to suit lenses with filter threads and cinema lenses with a 95mm outer diameter. The deep filter depth blocks glare and places the filter as close to the lens as possible to ensure no vignetting on lenses down to 15mm full frame equivalent. The Carbon Fibre top flag also reduces glare from any overhead light source. The holder has slots in the side to reduce wind resistance, and the 350g weight makes it perfect for aerial platforms and gimbal use mounted on vehicles. The C5 comes packaged in a pouch that will hold all accessories that the C5 comes with to make it ready to use on set with various lenses. The holder incorporates a top entry 4×4″ slot for square filters in a tray or NiSi's Rotating filters designed for the C5. The filter tray can hold either a 100x100m 2mm or 4×4″ 4mm thick filter. There is a side entry 4×5.65″ filter slot to suit all 4×5.65″ filters from ND's to Grads, Mist, Polarisers, and more.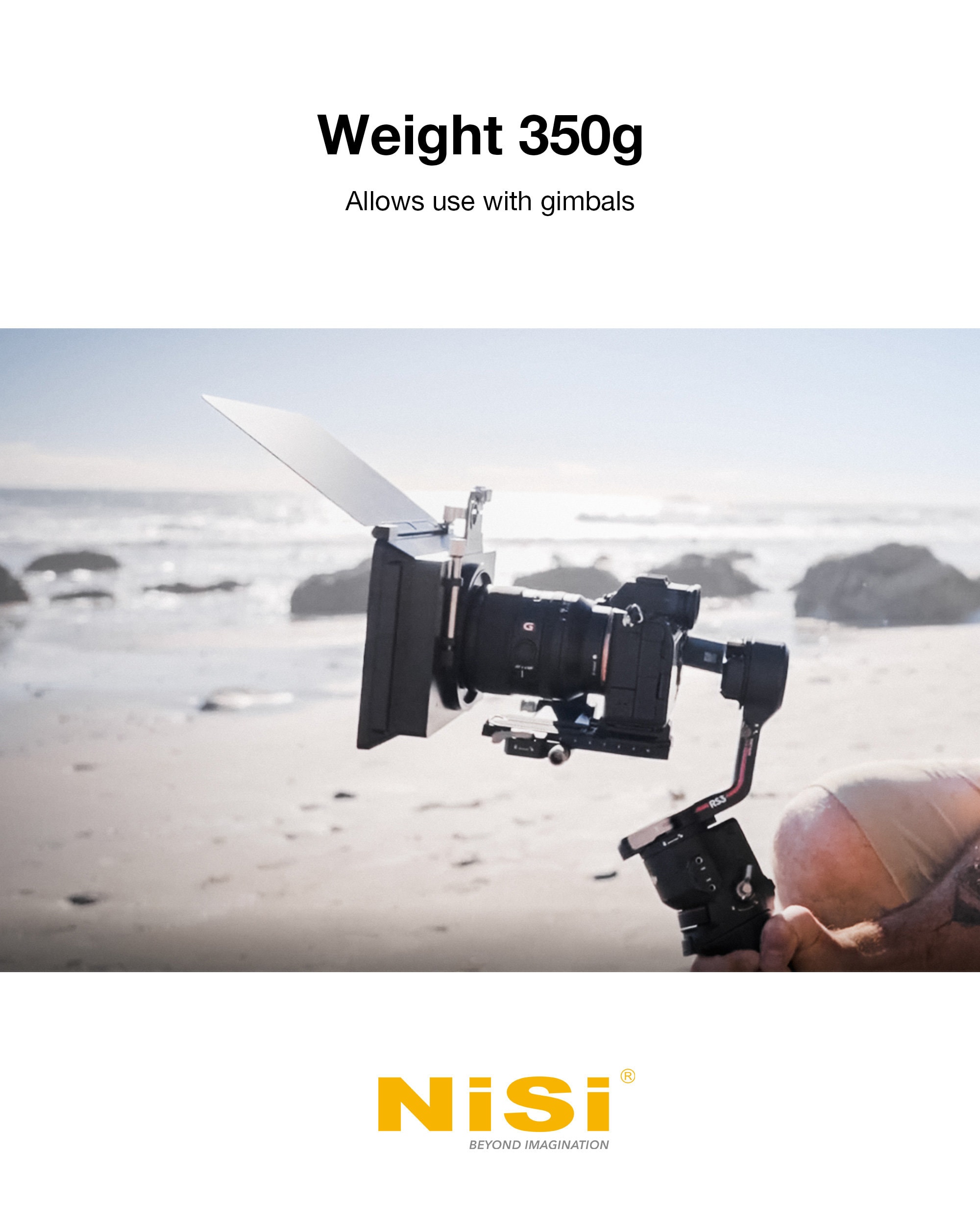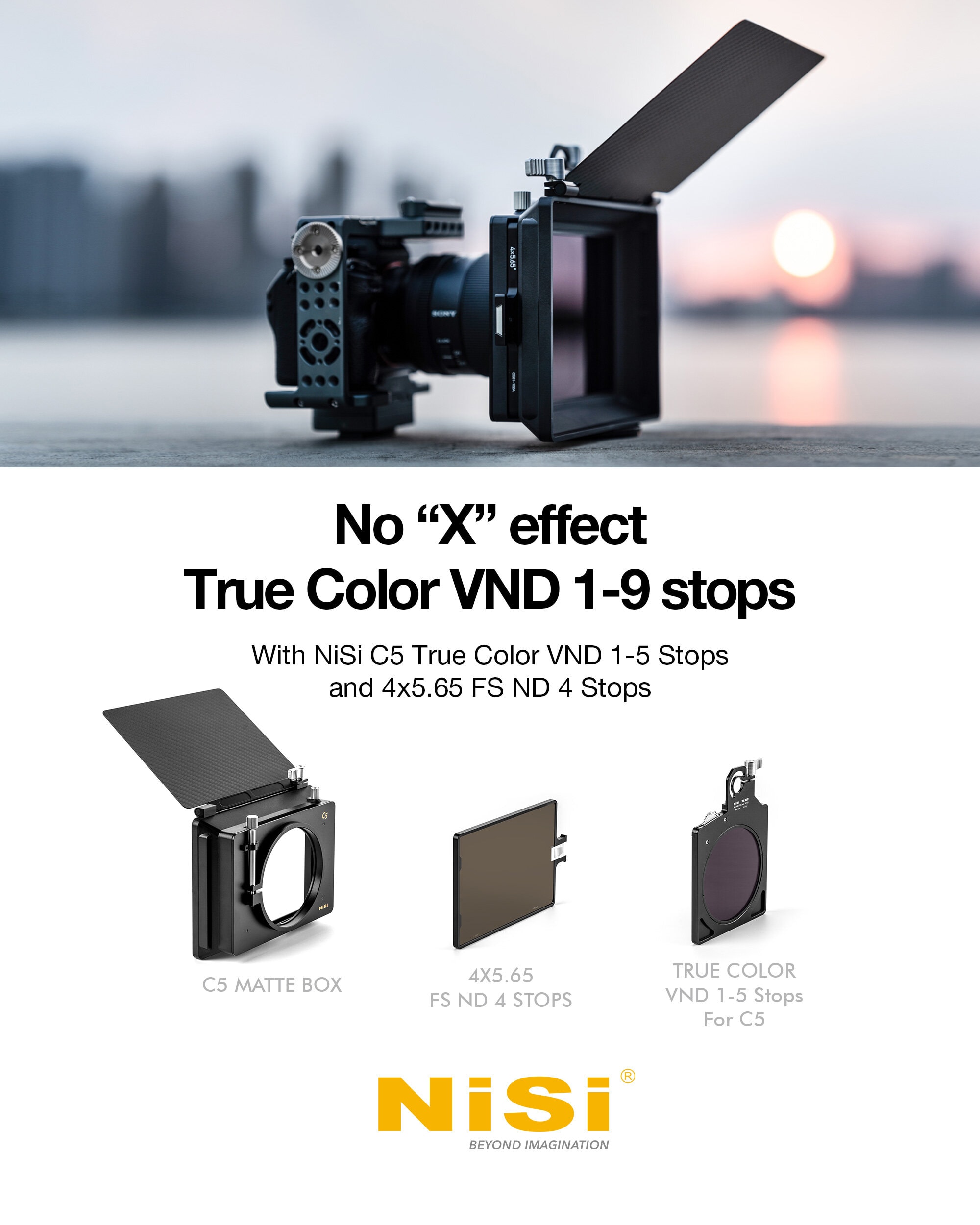 Choose your C5 Kit, Starter, Filmmaker or Cinema.
---
C5 Matte Box | Starter Kit

Aluminum, Composite Plastic and Carbon Fibre Construction
Clamp on with no need for rails
No vignetting at 15mm (Full Frame)
Supports 4×4″, (or 100x100mm) 4×5.65″ filters and NiSi C5 Rotating Filters
Adjustable top carbon fibre flag
Included in the Starter Kit

C5 Matte Box
1x carrying pouch
4x adapter rings to suit lenses with 67, 72, 77, and 82mm front threads
1x filter tray 4×4″
1x filter tray 4×5.65″
---
C5 Matte Box | Filmmaker Kit

Aluminum, Composite Plastic and Carbon Fibre Construction
Clamp on with no need for rails
No vignetting at 15mm (Full Frame)
Supports 4×4″, (or 100x100mm) 4×5.65″ filters and NiSi C5 Rotating Filters
Adjustable top carbon fibre flag
Included in the Filmmaker Kit

C5 Matte Box
1x carrying pouch
4x adapter rings to suit lenses with 67, 72, 77, and 82mm front threads
1x filter tray 4×4″
1x filter tray 4×5.65″
1x True Color VND1-5 Stops For C5
1x 4×5.65″ Nano IR Neutral Density 1.2 Filter (4 Stop)
1x 4×5.65″ Allure Mist Black Filter (1/8 Stop)
---
C5 Matte Box | Cinema Kit

Aluminum, Composite Plastic and Carbon Fibre Construction
Clamp on with no need for rails
No vignetting at 15mm (Full Frame)
Supports 4×4″, (or 100x100mm) 4×5.65″ filters and NiSi C5 Rotating Filters
Adjustable top carbon fibre flag
Included in the Cinema Kit

C5 Matte Box
1x carrying pouch
4x adapter rings to suit lenses with 67, 72, 77, and 82mm front threads
1x filter tray 4×4″
1x filter tray 4×5.65″
1x True Color Rotating C-PL for C5
1x True Color VND1-5 Stops For C5
1x 4×5.65″ Nano IR Neutral Density 1.2 Filter (4 Stop)
1x 4×5.65″ Allure Mist Black Filter (1/8 Stop)
---
NiSi Cinema C5 Filters and accessories
Find all the C5 filters specially made for the C5 Matte Box like the True Color VND 1-5 stops and the , C5 adapter rings and Filter trays 4×4″ and 4×5.65″
Installation and presentation videos: