Alessio Putzu, NiSi UK Ambassador
Alessio is a professional landscape and seascape photographer based in London, and originally from Italy. As a Global Ambassador for NiSi since 2015, he has collaborated with the brand as an advocate for the high quality filters we produce, and played an active role in the development of product lines, such as the Medium GND, and some features available on the V5 Pro and V6 Holders.
Since moving to the UK in may 2014, he decided to get the most of his time here to capture the beautiful coastlines the United Kingdom has to offer.
Alessio actively runs group photography workshops in Cornwall and Devon, South and North Wales,
Alessio's Gear Bag

Filters: NiSi V7 with True Color CPL, NiSi ND8 0.9 3 stops, ND64 1.8 6 stops, ND256 2.4 8 stops, ND1000 3.0 10 stops, NiSi GND8 0.9 3 stops Hard/Medium/Soft, NiSi GND16 1.2 4 stops Hard/Medium/Soft, Natural Night

Camera: Nikon D850

Lenses: Nikon AF-S 17-35mm f/2.8D IF-ED, Nikon 24-85mm f/2.8-4 AF-D

Bag: F-Stop Ajna with Large ICU

Tripod: Fotopro TL-84C with LG-9R ball head, Fotopro T-64C with LG-7 ball head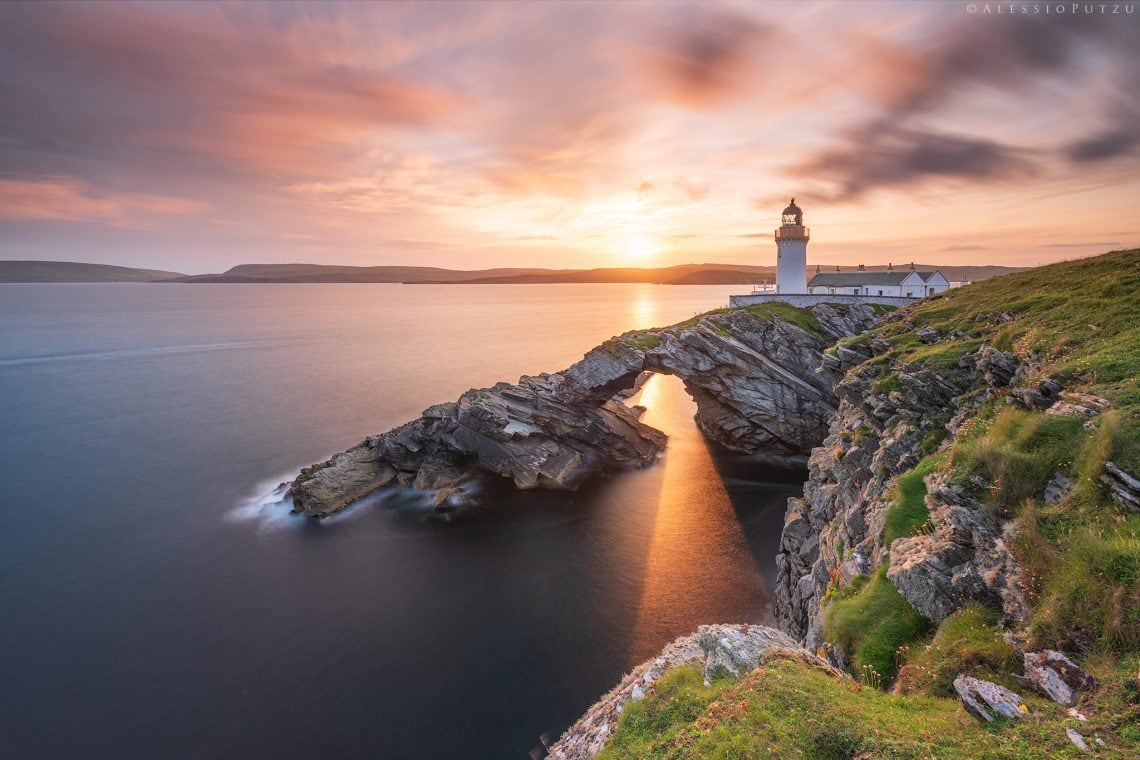 NiSi UK: What got you into photography?
Alessio: I started photography when I was 18 with Astrophotography, then moved into Nightscapes, creating Star-Trails and Milky Way pictures from my homeland, Sardinia. Then I moved into long exposure photography for sunsets and sunrises, and with the help of NiSi filters, I found my genre with Seascape and Landscapes.
I love being by the ocean and on the edge of a cliff to capture the beautiful vistas the United Kingdom has to offer. I love every season but my favourites are Spring with the amazing blooming on the coast of Pink Sea Thrifts, and Winter, when the sun stays low most of the day, creating interesting situations with light and shadows, and beautiful colours in the sky for sunrises and sunsets.
Photograph: Bressay Lighthouse, Shetland, with NiSi V6 with NC landscape CPL, ND256 2.4 8 Stops and GND8 0.9 3 stops HARD
Talk me through your favourite shot with NiSi filters (and include the photo)
Alessio: This happened in the Isle of Skye in February 2018 in the Slighachan area. It's a result of a panorama of 9 photos stitched together and it was one of the most challenging to capture as it was raining the whole time. The nano coating on the filters, helped me to get them cleaned easily with every shot, but not much was needed as the water was literally flowing leaving no trace on the GND.
It was taken using a V5Pro at the time with the NC landscape polariser, used to get rid of the reflections and glares on the wet rock, giving back the dark colour it has, a ND8 0.9 3 stop to smooth the water enough and a GND8 0.9 Soft to balance the sky and the foreground.
NiSi UK: What is your dream location to photograph?
Alessio: Is quite difficult for a photographer to pick one as every location a photographer scouts is the one they dreamed about shooting. The light matters more than the locations (for me seascapes mostly), but if I need to choose one, is probably the Shags and Gaada Stack, Foula island, Shetland, St. Kilda's cliffs from high ground and the Isle of Rum from the Isle of Eigg. You see, I can't stop naming them!!!
Photograph: Sardinia Milky Way with NiSi V6 and Natural Night Filter
Every photographer has that one day when it all went wrong – tell us about yours.
Alessio: Bamburgh castle, Northumberland, 25/10/2017. Nice side light, beautiful puffy low clouds, right tide just touching the rocks and leaving a nice effect on it.
Me, my wellies, my tripod with the camera attached and carrying it on my shoulder, walking on the wet rocks and the rush of getting the picture.
Me, laying on the rocks legs up and my Nikon D750 smashed.
Moral of the story, I was ordering the Nikon D850 the very next hour.
Jokes asides, be careful walking on wet rocks and don't get rushed for a photo as this will obfuscate your main goal, being out enjoying the scenery for yourself first. My camera kept shooting anyway for a couple of months, and even on that day, I managed to get the shot.
Follow Alessio on: